78 RPM Labels' Home Page
Detail Pages, By Label
These Detail Pages include label-specific discographies, as well as a brief history of each label's Sephardic recording activities. Wherever available, the label's newspaper advertisements and record catalogs have been digitized and incorporated (for example, see the Columbia catalog page, below right.)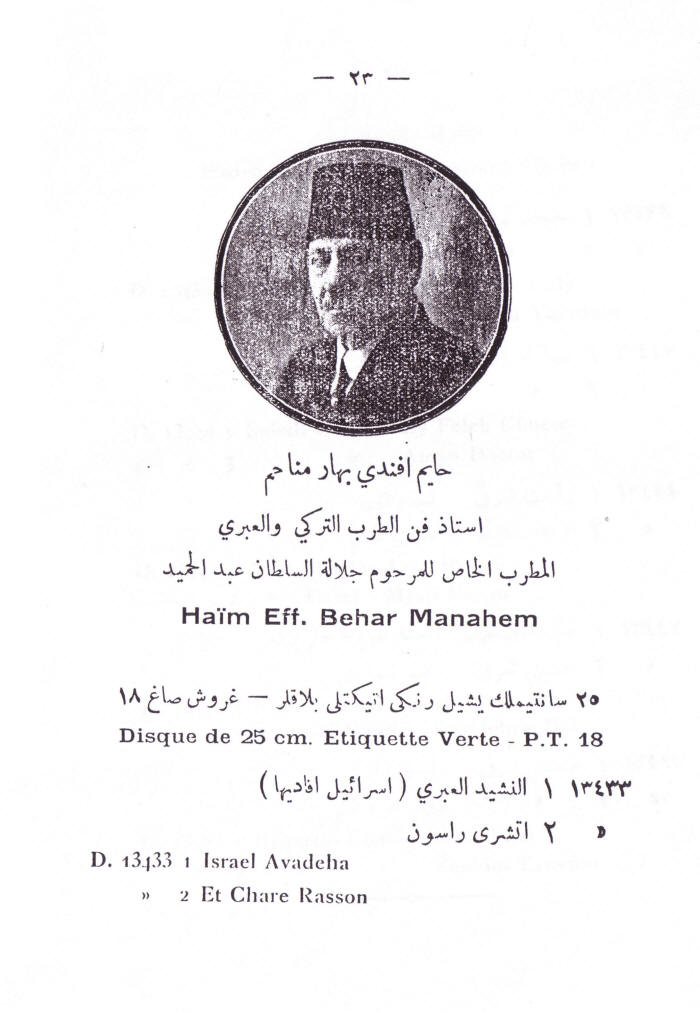 Angel
Baidaphon
Columbia
Comix
Congregation Shearith Israel
Edison Bell Penkala
Electro-Vox (See: Mayesh)
Favorite
Frères Blumenthal (See: Orfeon)
Gramophone
Hanéphone
Hatikvah
Homocord
Kol Zion
Levy's Sound Studios
Makolit
Mayesh
Me-Re
Metropolitan
Odeon
Orfeon
Orfeos (See: Orfeon)
Palomba
Pathé
Perfection Concert
Polydor
Polyphon
Reena
Tslil
Ultraphon
UNESCO
Zonophone

Unknown
Recordings with Ladino Fragments
Complete 78 RPM Discography, by Label
Click here for a (long!) list of Sephardic 78s, ordered first by label and then by catalog number.
Modern Recordings with 78-era Songs
In an age that has seen the re-release of literally thousands of 78s, the current crop of Sephardic 78s and 78-era recordings available in modern formats is meager, indeed.
Principal Recordings
In 1989 Professor Edwin Seroussi authored a book about the life and music of Isaac Algazi, Mizimrat Qedem. A companion two-cassette set published by Renanot included 32 of the famous rabbi's Hebrew and Judeo-Spanish recordings. Subsets of these selections were then later released on the Wergo and Kalan labels.
Global Village released Victoria Hazan's entire recorded repertory on their 2001 issue, Todas Mis Esperansas.
The Jewish Music Research Centre and its AMTI label have released An Early 20th-Century Sephardi Troubadour: The Historical Recordings of Haim Effendi of Turkey. This monumental 4-CD re-release with 59 songs chronicles the liturgical and secular output of this extremely influential Sephardic 78-rpm recording artist. See more here.
Other Releases
Artist(s)/Editor
Title
Songs
Rita Abatzi
Armenians, Jews, Turks & Gipsies in old recordings
Xanthi Evreopoula (Ladino fragments)
Algazi, Isaac &
Victoria Hazan/
Miguel Sánchez, Editor
Es razon de alabar
Amor y muerte (I. Agazi)
La doncella guerrera (I. Algazi)
La amante abandonada (V. Hazan)
Léon Gerberg/
Léon Algazi, arranger
Music of the French Synagogue
Adonoy Moloch
Schivo Berokhoss
Lazare & Ana Angel/
Léon Algazi, Supervising Editor/ Constantin Brăiloiu, Editor
World Collection of Recorded Folk Music
La Rosa Inflorece
A la una nací yo
El cavritico
Alta, alta va la luna
Partos trocados
Ya saliò de la mar la galana
Anonymous/
E.M. von Hornbostel, Editor
Demonstration Collection of E.M. von Hornbostel
and the Berlin Phonogramm-Archiv
Pentateuch
Choir of the Bevis Marks Synagogue
Sephardi Melodies, Music of the Spanish and Portuguese Jews
Yigdal (Eve of the Sabbath)
Lamnatseakh (Conclusion of the Sabbath)
Hashkibenu (Festival Eve)
En Kelokenu (Festival Morning)
Yigdal (Simhat Torah Eve)
Yimlokh (Festival Morning)
Mizmor LeDavid (Festival Morning)
Hallelu (Festival Morning)
Lekh Leshalom (Festival Morning)
Adon Olam (Festival Morning)
Yigdal (High Holiday Evening)
Atanu (Yom Kippur)
El Nora Alilah (Conclusion of Yom Kippur)
Adon Olam (High Holiday)
Choir of the Bevis Marks Synagogue/
Edwin Seroussi, Editor
500 Years of Sephardi Song and Prayer
Lekh Leshalom (Festival Morning)
David de Sola Pool, et al
Selections from the Music of Congregation Shearith Israel: Historic Music of The Spanish and Portuguese Synagogue in the City of New York, Volume III
Hanoten
Meyu'had
El nora 'alilah
Tenu sheba'hah
Meherah
Haim Effendi/
Christian Poché, Editor
La Música Arábigo-Andaluza
La Musique Arabo-Andalouse
A la una nasse io
David Prato
Canti liturgici Sefarditi
Sciahar
Sciohante
Atanu
El Nora Alila
Alleluja
Hattikvah
Cheduscia
Caddisch
Estrella Sanane &
Yojebed Chocrón/
(Collected by Tomás Navarro Tomás & Eduardo Martínez Torner?) under the supervision of Ramón Menéndez Pidal
Archivo de la Palabra
Diego León
Tamar
Pensativo estaba el Polo
El moro zaidí
La doncella guerrera
Paseábase Güeso
Gerineldo
Dr. Mauricio Levy/
Dr. Susana Weich-Shahak, Editor

Voces Sefardíes de Sarajevo
La morena
La merienda de las comadres
El bonetero de la trapería
Melisenda insomne
Hermanas, reina y cautiva
Landarico
La doncella guerrera
En busca del padre
El chuflete
Bracha Zefira
Shirei HaZahav Shel Bracha Zefira
(possibly other recordings)
Ein Adir K'Adonai
(possibly other titles)
All of these songs were originally released during the 78 rpm era except the Mauricio Levy and Estrella Sanane & Yojebed Chocrón selections.