Early Sephardic Repertory
Secular
Romances
Romances are narrative poetic ballads, often quite lengthy. Sephardi variations on Hispanic romances were stripped of Christian imagery and the violent endings were frequently modified. (1) They were used principally as lullabies, but also sometimes at lifecycle events, for instance, as funeral dirges. A few romances are used in connection with the yearly cycle. Since some of these texts originated hundreds of years ago, this genre has received by far the most attention from scholars. One ballad related the mysterious assassination of the Duke of Gandia, Giovanni Borgia, in 1497. Andarleto recounts the story of an adulterous queen. (hear Haim Effendi ♪ and Hespèrion XX ♪.) Even though some of the texts are ancient, it's worth noting that there has never been a single Sephardic melody traced back to pre-expulsion Spain or Portugal.
Canciones, or lyric songs
Most of the remaining secular songs are Canciones, lyric songs often originating from a Western European musical tradition. Canciones dominated the repertory by the early 20th Century.
For more on these genres, see (2.)
Liturgical and Paraliturgical
Coplas
Coplas are poems that employ rhyming couplets and triplets. They typically deal with religious and moral themes, often tied to the calendar. Some scholars assert that they are the most distinctive form of all Sephardic literature.
Here is one example from the Shavuot festival, Es razon de alabar ♪, also known as La ketubá de la Ley, as sung by Isaac Algazi. (The ketubá is a marriage contract, and here refers to God's marriage with the people Israel, solemnized at Sinai.)
Pizmonim
Paraliturgical songs known as pizmonim accounted for a small fraction of the Hebrew repertory. Some of these pizmonim were originated or popularized by choruses known as Maftirim, whose stronghold was in the city of Edirne. Here is Haim Effendi singing Pizmon rahoum ad mataï ♪.
Liturgy
Last, the Sephardim of course sang a tremendous range of prayers in Hebrew, and less frequently, translations of these prayers into Ladino.
Recorded Repertory
Given these genres, what did actual Sephardim actually sing? Essentially, the Sephardim sang what appealed to them, not the ancient ballads favored by scholars or medievalists! Discographical analysis confirms that lyric songs already prevailed over ballads by the turn of the century. (3) Many songs were "local, topical compositions"... "translated or adapted from...pop songs of the time." (4) In this way, the Sephardim of the early 20th century were following in the steps of their ancestors, whose translations and adaptations of Greek, Turkish, French and Italian ballads and lyric songs enriched the repertory from the 17th to the 19th century. (5)
As one example, La Petite Tonkinoise (It's Delightful To Be Married), popularized by Josephine Baker and others, was transformed by Haim Effendi into Tonkinoise Espagnol. Haim Effendi ranged widely for inspiration, composing original texts in Judeo-Spanish to accompany well-known Turkish melodies and recording many then-current Spanish songs. Another example shows how quickly political events of the day found their way into the Sephardi repertory. On July 19th 1908 a force led by the Young Turks Niyazi Bey and Enver Bey triumphantly entered Salonica and threatened to take control in Constantinople. A reactionary counter-movement arose in Constantinople, but in Spring 1909 the C.U.P. occupied Istanbul and resumed power for good. To celebrate these two events scores of songs and marches were composed and recorded. Haim Effendi recorded a Judeo-Spanish version of Hurriyet! (Freedom!) on Odeon. Jacob Algava weighed in with Todos koran para ver a Niyazi (Everybody run to see Niyazi) and another song about Niyazi Bey and Enver Bey, also on Odeon. (6)
Not many Romances made it onto 78s. Of those that did, sometimes the narrative line remained intact even as the poem was abbreviated to fit a three-minute recording time and instrumental accompaniment. More often the ballads were modified substantially, as in the Çakum Effendi recording of La reyna estava lavrando, where the artist repeated the introductory lines and mixed Turkish refrains in with Judeo-Spanish. (7)
The initial Sephardic catalog was overwhelmingly sung in Judeo-Spanish, supplemented later by Hebrew works. Isaac Algazi principally recorded Ladino songs from his birthplace, Izmir, many of which were unknown outside that city. Haim Effendi, on the other hand, recorded popular songs were widespread among the Sephardi communities in Istanbul, Edirne and Saloniki. (8) Haim's Hebrew recordings focused especially on the High Holiday liturgy.
We know that Sephardic artists recorded in Ladino, Greek, Turkish and Hebrew (as well as Armenian, Serbo-Croat and other host languages.) With a handful of exceptions, the reverse was not true: non-Jewish vocalists typically did not record Ladino songs, though many served as accompanists. Mme. Rosa, a Greek national (9) active around 1911, recorded Me keres matar mansevo for Gramophone in Salonica. But overwhelmingly, Judeo-Spanish songs of the time were recorded by Sephardim, and I surmise the non-Jewish recording artists had a fluent grasp of the language.
Performance Practices
As with other Middle-Eastern urban music genres, Sephardic music was based on a system of makam (Turkish plural: makamlar), which is sometimes translated as "mode," but actually embraces a broader series of musical elements. (10) Haim Effendi also performed then-current Spanish songs, whose scales sound diatonic, like the scales most familiar to Western listeners.
Traditional Sephardic vocalists employed microtonal ornaments, and nasal-centered singing. (11) Using examples from the two most prominent Sephardic recording artists singing the same liturgical song, Haim Effendi's ornamentation in Avino malken seems restrained when compared with Isaac Algazi's virtuoso style. (12) (Seroussi, 2008) For contrast, I have also included another 78-era sample from the Stamboul Quartette, as well as much later versions by the Istanbul cantor Isak Maçoro (considered by some to be Algazi's musical heir) and Aaron Najari, a cantor originally from Salonica.
FIVE TRADITIONAL VERSIONS OF AVINU MALKENU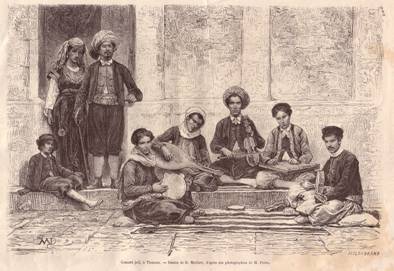 Traditional Sephardic music was also cappella and unmetered. (13) Performance practice on these early recordings typically conformed to this eastern, or "a la Turka" style. Performances diverge from the tradition in regularly employing instrumental ensembles typical of Ottoman urban music: 'oud, kanun (zither), and keman (violin), of which the 'oud is by far the most common. See this picture illustrating an Algerian Jewish ensemble, dated 1875. (14) The use of instrumental accompaniment tends to enforce a more pronounced metrical structure.
Of course, "Western" versions did not adhere to these traditional practices. As outlined in the 78-rpm survey, Léon Algazi arranged Sephardic liturgical songs for choir and soloists in Hebrew (sung by Léon Gerberg ♪) as well as secular songs in Ladino (sung by Janine Tenoudji ♪) In Palestine, Bracha Zefira sang mamy art song arrangements set for her by a variety of composers.
The table below lays summarizes the different performing styles.
78-ERA SEPHARDIC PERFORMING STYLES