The Second Half-Century of Sephardic Recordings
Following the first half century of commercial Sephardic recordings, the folk music revival, the early music movement's "discovery" of Sephardic music and the world music boom all led to tremendous changes in repertoire, performance and commercial practices.
At the end of the 1950s three publishing events had a huge impact on recorded Sephardic music. The first was a release of Ladino songs by Gloria Levy on the iconoclastic Folkways label in 1958. Ms. Levy had learned the songs from her mother Emilie, who had grown up in Alexandria. The songs were done in a Westernized "folk song" style, with Ms. Levy accompanying herself on guitar and her mother playing the mandolin. This recording introduced Sephardic music to many folk performers and their audiences. Hear Fel Shara ♪, the archetypal song from Alexandria, a riotous blend of Ladino, Arabic, French, Italian and English lyrics set to the Turkish tune, Üsküdar.
Emilie de Vidas Levy in the 1950s

Gloria Levy (now Gloria de Vidas Kirchheimer) in 1958.

Photos courtesy of Ms. Kirchheimer
And then, for performers not lucky enough to have been born into Sephardic families, the publication of Léon Algazi's Chants séphardis in 1958 and the first volume of Isaac Levy's Chant Judéo-Espagnols in 1959 offered a rich mother lode of songs. Levy was the head of the Ladino language broadcasting section at Radio Israel. He would typically collect several different versions of a song, strip out his informants' microtonal embellishments, regularize the meter, and then publish them in an art song setting. Most of the songs date from the late 19th century, and conversely there are relatively few romances. Levy ultimately released four volumes. (1)
The past 50 years have seen unique developments in Ladino recordings in Israel, Europe and the Americas. I will first cover how Sephardic music was adopted and adapted by the Early Music movement. This development yielded up hundreds of recordings and had a huge impact on shaping the public's perception of Sephardic music as medieval music.
Early Music versions
...the sound of Medieval song is the sound of our own historically informed imaginations as we project on the past through the powerful lens of the present.

Benjamin Bagby, What is the Sound of Medieval Song (2)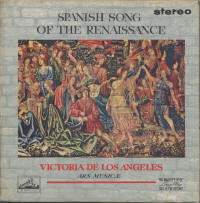 The Spanish soprano Victoria de los Angeles was the first mainstream classical artist to record Sephardic repertory, specifically, two songs in her 1962 release, Spanish Song of the Renaissance. (Una hija tiene el rey ♪ and Una matica de ruda. ♪) I believe this was also the first recording to use what might be described as Medieval or pseudo-Medieval accompaniment for Sephardic songs. Six years later, de los Angeles followed with Songs of Andalusia. A young musician named Jordi Savall played gamba on this recording.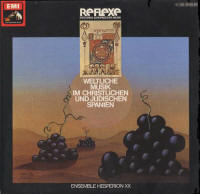 Savall and his wife later formed the early music group Hespèrion XX. In 1976, they released a 2-LP recording titled Weltliche Musik im Christlichen und Jüdischen Spanien (Music from Christian and Jewish Spain). When preparing their Sephardic songs, the group started with the four-volume Levy collection. They then undertook, according to the liner notes, "a sincere attempt to realize a performance practice...that was known to exist on the Peninsula..."
To recap, the group started with a version by Isaac Levy intentionally stripped clean of traditional Sephardic performance practices, then re-imagined the songs as they thought they might have been performed. As Professor Judith R. Cohen has noted, "Many of the groups performing Sephardic music have ignored the living tradition and have chosen to re-invent a 'historical' one." (3) Here is their performance of El rey que tanto madruga ♪, aka Landarico.
It's also worth noting that there has never been a single Sephardic melody traced back to pre-expulsion Spain or Portugal. The LP's liner notes allude to this point, but it is likely to escape most listeners' attention. I know it escaped mine, and this was the recording I heard in college that launched a lifelong love of Sephardic music. Because some Sephardic romances are old, some groups seem to believe that the music they are set to is similarly ancient. And this medieval umbrella is then extended to cover lyric songs dating back to just the 19th century. The most striking examples include Early Music renditions of Adio querida, whose melody originated in a Verdi aria!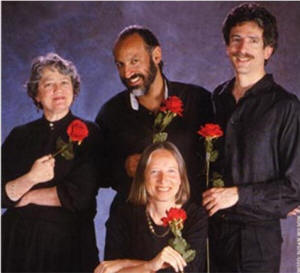 De los Angeles and Hespèrion XX laid down a template that has been used ever since: medieval instruments, medieval sounding arrangements, medieval claims for much of the music and vocalists typically performing in an art song or folk-inflected style. Voice of the Turtle was one of the groups that followed closely on their heels. They have recorded more Sephardic repertory than any other group in the world since their first release in 1980. While they too originally relied on Isaac Levy's collection, to their credit their director Judith T. Wachs supplemented published sources with very extensive archival research. (We mourn the untimely death of Ms. Wachs. See here for more about her and Voice of the Turtle.)
In a posting to an early music mailing list in 1995, Joel Cohen wrote of having heard "one astonishing piece in Spanish – A la una nasse io – by a certain Haim Effendi, singing with oud and kanun accompaniment. The Real Stuff. Puts all our E(arly) M(usic) attempts at re-creation into humbling perspective." Cohen realized that eastern aesthetics, or better still, performing collaborations, were required to arrive at convincing performance practices. (4) His Camerata teamed overseas with the l'Orchestre Andalou de Fes and domestically with the Sharq Arabic Music Ensemble. Several other Early Music groups also injected a strong Arabic musical component in their performances.
Folk Revival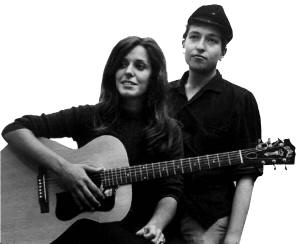 Doubling back to the start of both the LP era and the folk revival movement, songstress Carolyn Hester learned the Sephardic song, Los Bilbilicos ♪ at a song-swapping group in Greenwich Village in the early 1960s. (5) The melody is an extremely well known setting of the Sabbath table song, Tzur Mishelo. Hester recorded it on a 1962 LP that is best known these days for Bob Dylan's harmonica playing on several tracks. (6) Hester's husband at the time, Richard Fariña, heard the song and adapted it into The Swallow Song ♪ which he recorded with his next wife, Mimi, on their second album, Reflections in a Crystal Wind.
There were a handful of other relatively early U.S. folk recordings along with the Levy and Hester disks, Apart from the United States, artists in Spain and Israel turned out more recordings with Sephardic songs over the years than those in any other countries. Their counterparts in Turkey made their own unique contributions.
Spain
In Spain as we have seen, Victoria de los Angeles, led the way, joined by Sofia Noel performing in an art song style. Joaquín Díaz was the first Spanish folksinger of note to perform Sephardic songs. His research activities lent additional authority and influence to his music making. So did the re-release of two of his 1970s recordings of Ladino songs by Spain's Ministry of Culture. Here is a sample ♪ of Díaz singing from his Recital LP.
The overwhelming majority of recorded songs come from the Eastern Mediterranean tradition. Díaz recorded some Western, or Moroccan, selections as well. A Canadian group, Gerineldo, was one of the few to concentrate on the Moroccan repertory. Gerineldo's recordings were difficult to find in North America. In Spain, though, they were re-released on Tecnosaga, a prominent roots music label, and made their way into department stores and specialty shops where they came to the attention of the local folk community. (7) (Listen to Gerineldo perform La novia destrenza el pelo. ♪)
Many other Spanish folksingers such as Rosa Zaragoza, claimed Sephardic music as part of their cultural patrimony and performed the repertory in a wide variety of styles. (Here is Zaragoza performing Cuando veo hija hermosa. ♪)
Turkey
The Ottoman Empire was the site of most 78-era Sephardic recordings, and Turkey is still home to a sizable population of native Ladino speakers. The country's most prominent performers of Sephardic music are Los Pasharos Sefaradis and Jak and Janet Esim. The Pasharos ensemble, founded in 1978, perform in an urban Istanbuli idiom. (Hear Ven ermoza. ♪) The husband and wife duo of Janet and Jak Esim, joined by various guest musicians, perform in a jazz vein. (Listen to Ija mia mi kerida ♪.) Traditional cantors such as Isak Maçoro ♪ have contributed a handful of recordings, as have Maçoro and other singers performing the traditional Maftirim repertory. (8)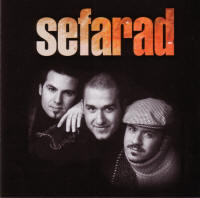 By far the most unusual example of Sephardic music in Turkey came from a group named Sefarad. Fronted by three young Jewish musicians, Sefarad sold hundreds of thousands of copies of recordings containing Sephardic music, and even hit the Turkish pop charts – unheard of anywhere else. In the double CD Sefarad, Volume 2 songs are presented twice on different CDs, once in Turkish and once in Ladino. (The arrangements, backbeats, running times, etc. are all the same.) Quite simply, these were the best selling Sephardic recordings in the world. (Listen to Si veriyas a la rana ♪, which opens in Turkish, then switches to Ladino.) The group has since disbanded.
Israel
Though not a native Ladino speaker, singer Yehoram Gaon was born in Jerusalem to a Sephardic family. His 1974 recording Romantic Ballads from the Great Judeo Espagnol Heritage (Romansot B'ladino) played a key role in promoting songs from the Eastern Sephardic lyric and light religious repertoires. (9) Songs came from the Isaac Levy and Léon Algazi books. He is backed by a small "pops" orchestra, as you will hear. ♪
Several songs from this album were included in a collection, Romancero Judeo-espagnol. The glory of the Sephardic heritage in 1975. Two years later, an LP titled Boustan Sephardi drew yet again on Isaac Levy's melodies. Many of these songs were represented in the repertory of the pioneering Bracha Zefira. (10) Together with the Romancero compilation, these recordings firmly fixed the core of the Ladino revival repertory in Israel, repertory formed in the last decade of 19th century with a relatively low number of romances. (11)
World Music/Rock/Avant Garde
The "world music" movement, which helped ethnic music cross over into the mainstream market, has been going strong for over 25 years now. Sephardic recordings got a particular boost in 1992, owing to heightened interest in marking the 500th anniversary of the expulsion from Spain.
Suzy, Fortuna, Jaramar, Sarah Aroeste and others have performed pop-rock versions of Sephardic music. (Here is Aroeste performing En el café. ♪) In Extremo, true to their name, morphed Cuando el Rey Nimrod into a heavy metal selection (click ♪ if you dare!) The Changelings gave A'har Noghenim ♪ an ambient styling.
In addition to folk, art song, early music, light pops and rock versions, there are a cappella (Asentada en mi ventana ♪ by the cleverly named Aquabella ensemble), choral (El norah alilah ♪, Zamir Chorale of Boston), jazz (Partos Trocados ♪ by the Australian singer Caroline Lynne-Bayne) and many other styles.
Traditional Recordings
Of course, there are many recordings by performers born to the tradition and others who have studied it intensively. Since 1980 Israeli researcher Dr. Weich-Shahak has released a dozen meticulously researched compilations of "field recordings" of Sephardic songs. (See one example here.) In her very helpful "Short bibliography of Sephardic Music", Professor Judith R. Cohen classifies various performances as Documentary and Semi-Documentary. Using Professor Cohen's classification, Hadass Pal-Yarden brought out a well-researched example of the latter, Ottoman urban music on the recording Yahudice. (Compare her version of Kante Katife ♪ with Isaac Angel's Katife en Espagnol. ♪)
I also compiled a table of any 78-era recordings that have been re-released on modern formats here.
Conclusions
In addition to Professor Cohen's taxonomy, Amnon Shiloah and Erik Cohen identified nine different performance styles for Jewish oriental music in Israel, including "Traditional", "Conserved", "Neotraditional", etc. (12) I have made my own preliminary attempt at classifying various Sephardic performing styles, with at least one audio sample, in the table below.
SEPHARDIC PERFORMING STYLES
In the mid-1970s the US newsletter Ke xaber covered subjects related to Ladino and Sephardic culture. The publication struggled valiantly to locate recordings with even one Sephardic song to bring to its readers' attention. Today, there has been an explosion in releases – over 1,500 with Judeo-Spanish songs. (13) As we have seen, Sephardic songs are now performed in virtually every corner of the globe, in every conceivable style. But in a striking reversal of 78-era practices (which expanded the repertory within a narrow range of performing styles) this profusion of styles has been twinned with a reduction in the breadth of the repertory. It sometimes seems as if every new recording is drawing from the same top 40 Sephardic choices.
This site offers samples of hundreds of 78-era performances. (See here to start exploring.) In the future we hope to offer samples of the entire recorded history of recorded Sephardic music – over 10,000 song performances in all. Within this cornucopia of materials, I hope that artists can locate exciting songs and that the recordings they create will resound through the second hundred years of recorded Sephardic music.