Orfeon/Orfeos
Discography
Label / Number

Artist

Title

Haim Effendi

Tu soz ermoza donzea

Haim Effendi

O ke grasyozo Dio

Haim Effendi

Imaphes Espagnole

Haim Effendi

Carcelaro ipiadoso

Haim Effendi

Al Dio Alto

Haim Effendi

Etcharé Razon

Haim Effendi

Ken sekasa kon amor

Haim Effendi

Bien orosos los mansevos

Haim Effendi

La soledad de la notschada

Haim Effendi

Montagnas ize polvo

Haim Effendi

Kamti

Haim Effendi

Avino malken

Haim Effendi

Avre los ogios

Haim Effendi

Boulissa boulissa

Haim Effendi

Oudou

Haim Effendi

El ke toka la kitara

Haim Effendi

Dame la Mano Palomba

Haim Effendi

Adir ve nahor

Haim Effendi

Vejemou kol

Haim Effendi

Ala Edad de kinze agnos

Haim Effendi

De enfrente la vide venir

Haim Effendi

Vezouhri

Haim Effendi

Alevantesch Vos

Haim Effendi

Avlo con coragio

Haim Effendi

Yo me asento en mi ventana

Haim Effendi

Como la rosa en la guerta

Haim Effendi

Hajom arad olam

Haim Effendi

Kal nidré

Haim Effendi

Kol Hod Baleva

Haim Effendi

Ve akoanim

Haim Effendi

Zochrenou lechaim

Haim Effendi

Adonai Schamati

Haim Effendi

Dourme Dourme

Haim Effendi

Majana Majana

Haim Effendi

Arvoles joran por louvja

Haim Effendi

La Espartission

Haim Effendi

Ke Ofissio tenesch

Haim Effendi

Notsche Buoina

Haim Effendi

Marche Sioniste

Haim Effendi

La reyna estava lavrando

Haim Effendi

Todo Buoina tengo

Haim Effendi

Yessav a El

Haim Effendi

Tu soz una estrea biva

Haim Effendi

La palomba-Espagnol

Haim Effendi

El Rei ke mountcho

Haim Effendi

Estrea soz del Cielo-Espagnol

Haim Effendi

Veavraham siv

Haim Effendi

Mira kwesta palomiya

Haim Effendi

Paseando una manyana

Haim Effendi

La mintira de la mwerte

Haim Effendi

Ken me dyo una ramika

Haim Effendi

Amor tengo

Haim Effendi

Ya son kaze sez anyos

Haim Effendi

Kantika de la Palestina

Haim Effendi

Yachen Al Teradam

Haim Effendi

Kidousche

Haim Effendi

Kadisch

Haim Effendi

Chomer Israel

Haim Effendi

Ahot ketana

Haim Effendi

Chofet Kol Aaresse

Haim Effendi

Pizmon Ya El Habib

Haim Effendi

Pizmon Chavti Badonaï

Haim Effendi

Yagan i melizinan

Haim Effendi

Bechouv Adonaï

Haim Effendi

Árvolez de almendra

Haim Effendi

Anoten techoua

Haim Effendi

Kantica del Parido

Haim Effendi

Aparessé a la ventana

Haim Effendi

El Meleh

Haim Effendi

Raou Banim

Haim Effendi

Leha Eli

Haim Effendi

Kantikal del Novio

Haim Effendi

Kantika Sionista Dos Mille Anios

Haim Effendi

Mihtam le David

Haim Effendi

Israel Avadeho

Haim Effendi

Anenu elohe avraham

Haim Effendi

Rahum vehanun

Haim Effendi

Anché Emouno

Haim Effendi

Maldichta esse la mi vida

Haim Effendi

Pizmon rahoum ad mataï

Haim Effendi

Mizmor ledavid

Haim Effendi

Leka dodi

Haim Effendi

Adonay bekol Şofar

Haim Effendi

Eloay al tedineni

Haim Effendi

Adonay hu haElohim

Haim Effendi

Tehilot lael

Haim Effendi

Ya Chema Evyoneho

Haim Effendi

Teromam badrama

Haim Effendi

Pizmon Emet El Shmekha

Haim Effendi

Šir haširim

Haim Effendi

Venturozo Mansevo

Haim Effendi

Ánjel de la ermozura

Haim Effendi

Keter yitenou

Haim Effendi

El Nora Alïla

Haim Effendi

Odeka ki anitani

Haim Effendi

La hagada

Haim Effendi

Komo el pášaro

Haim Effendi

Katarina en la ventana

Haim Effendi

Amores a la vida/
Queridos, mis queridos en ti esta cantiga

Haim Effendi

Nichemat Kol Hay

Haim Effendi

Grande desplazer tengo

Haim Effendi

Contar kero mis amoresse

Haim Effendi

Al Hataim

Haim Effendi

Jamse Le Ameha

Haim Effendi

Palestina tyera santa

Haim Effendi

Palestina kwanto soz dezventurada
History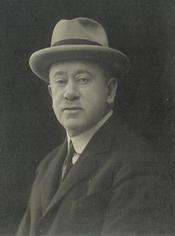 The Ashkenazi brothers Hermann and Julius Blumenthal (pictured here) served ca. 1902-1903 as representatives of the International Zonophone Co., Turkey. Their next assignment was as representatives of the International Talking Machine Company (Odeon) in Turkey and Egypt.(source: Gronow.) While their principal focus was Turkish repertory by such luminaries as Tanburî Cemil Bey, they also oversaw the label's initial Sephardic releases. The brothers founded Blumenthal Talking Machines in 1910 and diligently set about releasing 78s on their Orfeon and Orfeos labels. Shortly afterward, the brothers opened Turkey's first record factory, in Feriköy.
The firm contracted "with many of the outstanding artists of the period, foremost among whom was Tanburî Cemil Bey, as well as Hafız Âşir, Hafız Osman, Arap Mehmet, Hanende İbrahim and Tamburacı Osman Pehlivan." (Duygulu)
They wasted no time addressing the Sephardic market in the Ottoman Empire, releasing 45 songs by the Turkish club singer Haim Effendi from 1911 to 1913.
In 1925, the firm sold its factory to Columbia, and subsequent re-releases issued on that label. When Columbia and Gramophone merged in 1931 to become EMI, the Gramophone agents "were chosen to continue representing the company. Columbia's old agents, Blumenthal Frères, were unceremoniously dropped." (Vernon)
Sources:
Gronow, 1981.
Kalyviotis, Aristomenis, 2002.
Vernon, Paul, "Empire State", http://www.bolingo.org/audio/texts/fr167empire.html
Accessed October 6, 2008.
Duygulu, Melih Cemal Ünlü, "Turkey's Musical Life During The Past Century: History, Genres, Voice Recordings, Sectoral Structure", http://www.turkishmusicportal.org/article.php?id=13&lang2=en
Accessed October 6, 2008.
Catalogs
I know of no surviving Orfeon catalogs with Sephardic content. See an image from the Catalogue Général No 1 de Disques Double Face Orfeon here.