Odeon
Discography
| | | |
| --- | --- | --- |
| Label / Number | Artist | Title |
| | Algazi, Salomon | Soufriendo |
| | Algazi, Salomon | En la soledat de la Notchada |
| | Algazi, Salomon | Mori yo di amor |
| | Algazi, Salomon | Nuoce bouena |
| | Algazi, Salomon | Ach ninia sin piedad |
| | Algava, Jacob | Madam Gaspard si choi al Tcharschi |
| | Algava, Jacob | Todos koran para ver a Niyazi i Enver Bey |
| | Algava, Jacob | Los eros Niyazi i Enver Bey |
| | Algava, Jacob | Agora van bouschkando mansevikos hormozoss |
| | Algava, Jacob | Non mi dess tanta affrission |
| | Algava, Jacob | Arvoles d'Almandra |
| | Algava, Jacob | La Novia le disa al Novia |
| | Beressi, Albert | Estudiante kidje esser |
| Odeon 54234 | Beressi, Albert | Estudiante kidji ésser |
| | Beressi, Albert | Indomi parla oria |
| | Beressi, Albert | Ah Sarika Bré |
| | Haim Effendi | Dourme dourme ermosa Donzeiia |
| | Beressi, Albert | Jo me namori del aire d'una mujer |
| | Haim Effendi | La Reina stava lavrando |
| | Beressi, Albert | Dourme dourme ermoza donzea |
| | Haim Effendi | Muero io de amor |
| | Haim Effendi | La Rosa enfloresse |
| | Haim Effendi | Avre tu puerta |
| | Haim Effendi | La Espartission |
| | Beressi, Albert | Tschakirika |
| | Haim Effendi | Tonkinoise Espagnol |
| | Haim Effendi | Venturoso mansevo |
| | Haim Effendi | Carselero i piadoso |
| | Haim Effendi | Magnana magnana |
| | Haim Effendi | Dame la mano palomba |
| | Haim Effendi | Im afes |
| | Haim Effendi | Avlo con coradje |
| | Haim Effendi | Maz ariva i maz ariva |
| | Haim Effendi | Ah ninia jena di brillos |
| | Haim Effendi | Barona vo azerte |
| | Haim Effendi | A la una nassi io |
| | Haim Effendi | Indome para Marsiglia |
| | Haim Effendi | La palomba/Cuando salí de la Habana |
| | Haim Effendi | Todo bueno tengo |
| | Beressi, Albert | La morena |
| | Haim Effendi | Alevantsch vos touroundja |
| | Haim Effendi/Albert Beressi? | Avlar jo vos kero |
| | Haim Effendi | Arvoles yoran por luvia |
| | Haim Effendi | Al Dio alto |
| | Haim Effendi | Eth Charé Razon |
| | Haim Effende | Houriet Espagnol |
| | Haim Effende | Los amigos me dan speranza |
| | Haim Effende | Indome por mares altes |
| | Haim Effendi | Arvoles yoran pour louvia |
| | Haim Effendi | Al Dio alto |
| | Haim Effendi | Alevantech vos tourundja |
| | Haim Effendi | Et charé rasson |
| | Haim Effendi | La Rosa enfloresse |
| | Haim Effendi | Karselero ai piadoso |
| | Haim Effendi | Muero lio di amor |
| | Haim Effendi | Venturoso mansevo |
| | Haim Effendi | La palomba |
| | Haim Effendi | Dame la mano palambo |
| | Haim Effendi | Avlo con coradje |
| | Haim Effendi | La Espartission |
| | Haim Effendi | Todo bueno tengo |
| | Haim Effendi | Romance Espagnole, Majana |
| | Beressi, Albert | Indomi parla oria |
| | Beressi, Albert | Ah sarika bré |
| | Haim Effendi | Ah ninia lüna de brilles |
| | Haim Effendi | Barona vo azerte |
| | Haim Effendi | A la una nassio |
| | Haim Effendi | Indome para Marsiglia |
| | Haim Effendi | As apes |
| | Haim Effendi | Avre tou puerta |
| | Haim Effendi | Dourme dourme ermoza donzela |
| | Haim Effendi | La reina estava lavrando |
| | Algava, Jacob | Non me dech tanta affrission |
| | Algava, Jacob | Arvolez d'Almendra |
| | Beressi, Albert | Estudiante kidje esser |
| | Haim Effendi/Albert Beressi? | Avlar jo vos kero |
| | Beressi, Albert | Jo me namori del aire d'una mujer |
| | Beressi, Albert | Dourme dourme ermoza donzea |
| | Algazi, Salomon | Soufriendo |
| | Algazi, Salomon | Moro yo di amor |
| | Algazi, Salomon | La soledad de la notchada |
| | Algazi, Salomon | Nuoce bouena |
| | Vidalis, Giorgos and Rosa Eskenazi | Evreopoula |
| | Algazi, Isaac | Attikva |
| | Algazi, Isaac | Seou Siona Nes Vedeghel |
| | Algazi, Isaac | Seou Chearim |
| | Algazi, Isaac | Teromen Bath Rama |
| | Algazi, Isaac | Es Razon de Alavar |
| | Algazi, Isaac | Kidouch Chel Chavouoth |
| | Algazi, Isaac | Adonaï Chamahti |
| | Algazi, Isaac | Ohila La-El |
| | Algazi, Isaac | Adonaï, Adonaï El Rahoum |
| | Algazi, Isaac | Aïom Arath Olam |
| | Algazi, Isaac | Yichlah Michmaïm-Mafterim |
| | Algazi, Isaac | Elo Yichan-Mafterim |
| | Algazi, Isaac | Reyna de la Grasia |
| | Algazi, Isaac | Malanya Tripa di Madre |
History
The International Talking Machine Company (Odeon) was the first company to institute a system of independent agents who worked with local artists to record local music. (Vernon, 1994.) By 1905 Odeon amassed a catalog of hundreds of Arabic, Greek and Turkish songs (Vernon, 1997b and private communication.) Commercial Sephardic recording began in 1906 or 1907 in Constantinople, when Salomon Effendi (Salomon Algazi) recorded Noche Buena for the Odeon Record company. Over the next six years Odeon released roughly two dozen double-sided Sephardic recordings, overwhelmingly in Judeo-Spanish rather than Hebrew. Their initial slate of recording artists included Jacob Algava, Albert Beressi, and the prolific Haim Effendi. These artists were supervised by the Julius and Herman Blumenthal, agents for Odeon (in Constantinople and Cairo), who later went on to found the first Turkish record label, Orfeon.
A full two decades later, Isaac Algazi recorded 14 sides (see the LA 202***series, above and here) while around the same time many of the earlier works were re-released by the American Odeon operation (see the 830** series, above and here.)
Catalogs
Undated, ca. 1907?, Turkey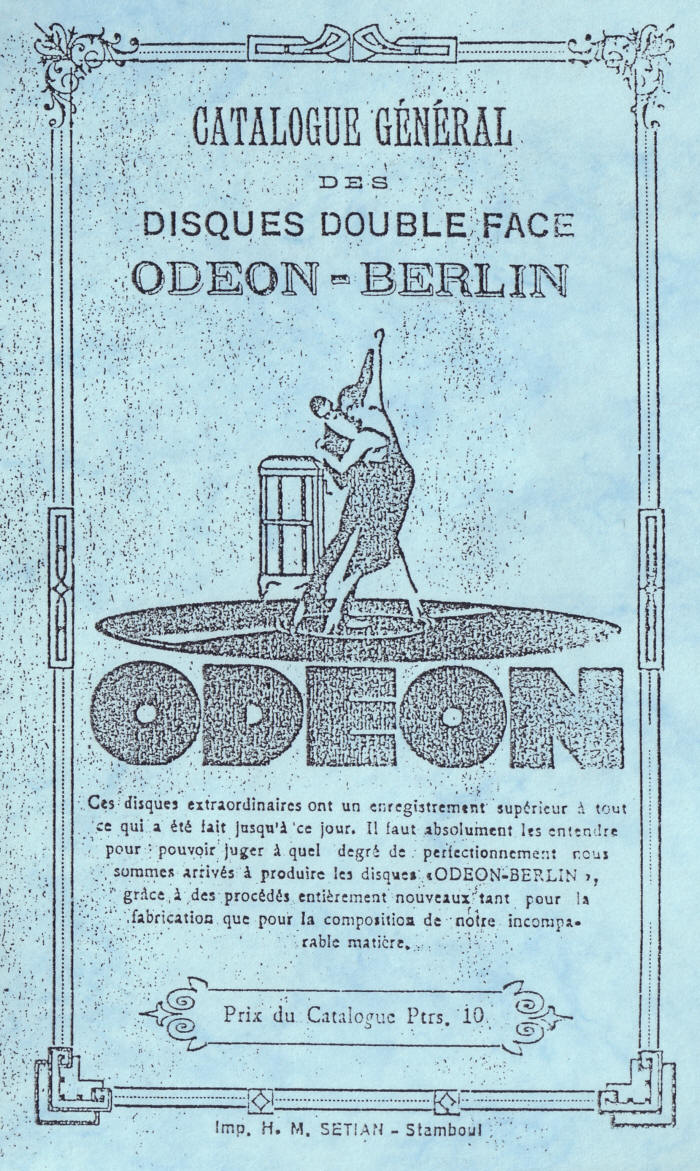 Source: İsmail Akçay.
---
Undated fragment, ca. 1907?, Turkey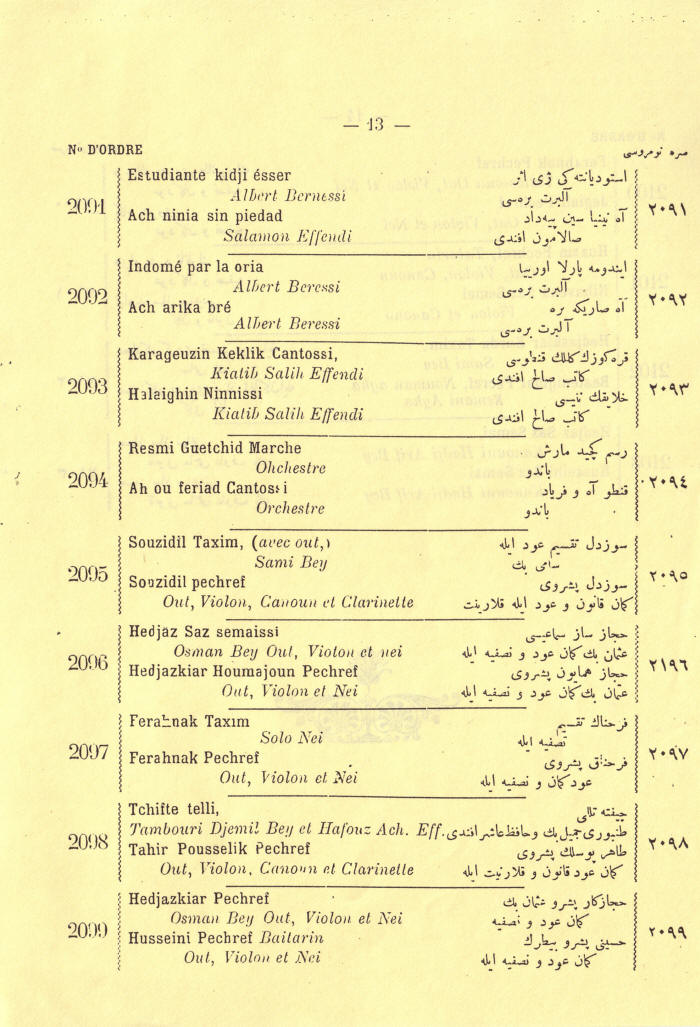 Source: İsmail Akçay.
---
1908, Turkey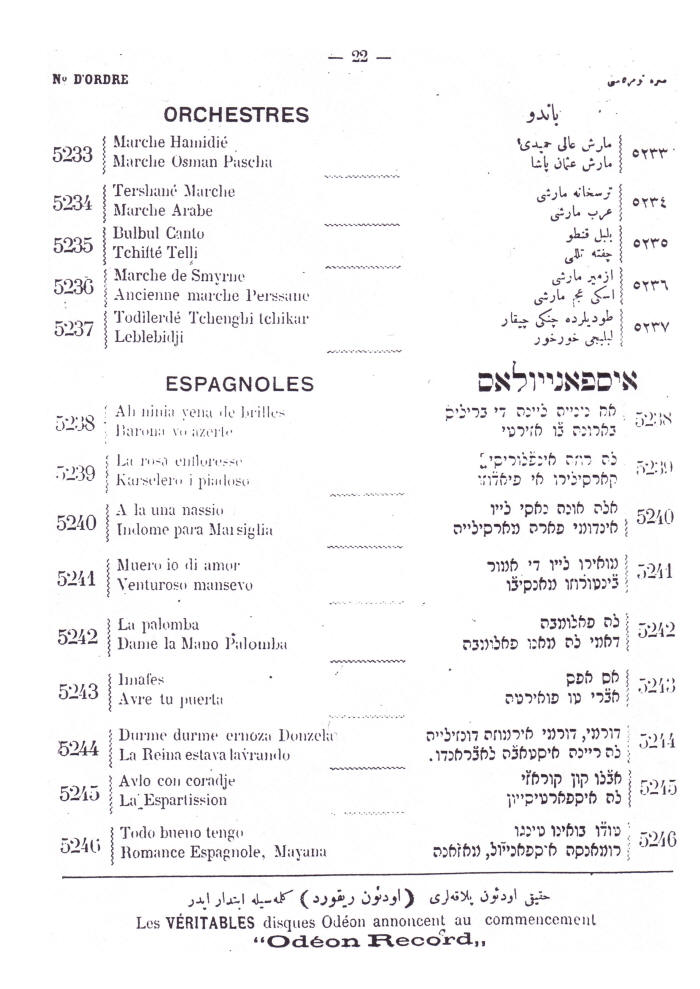 ---
1926, United States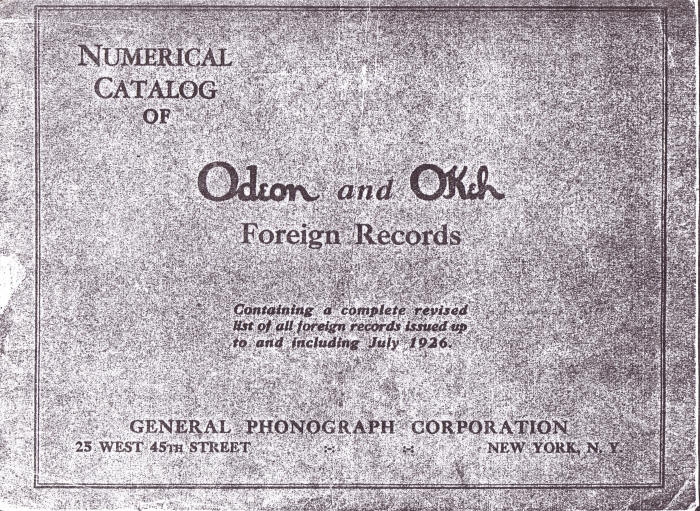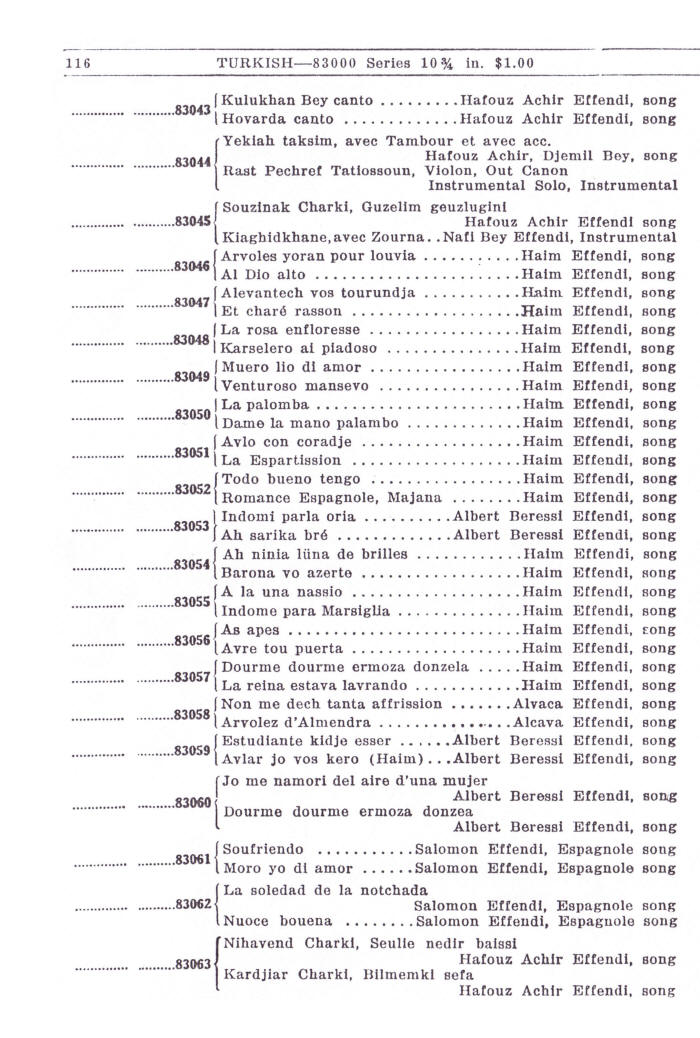 Source: Hugo Strötbaum.
---
1929, Turkey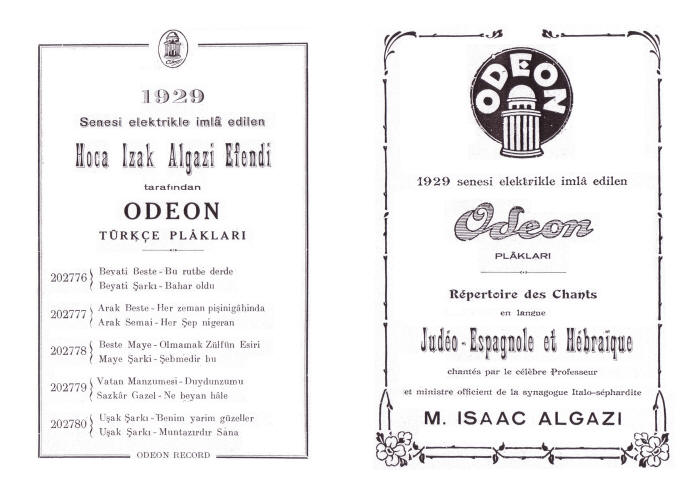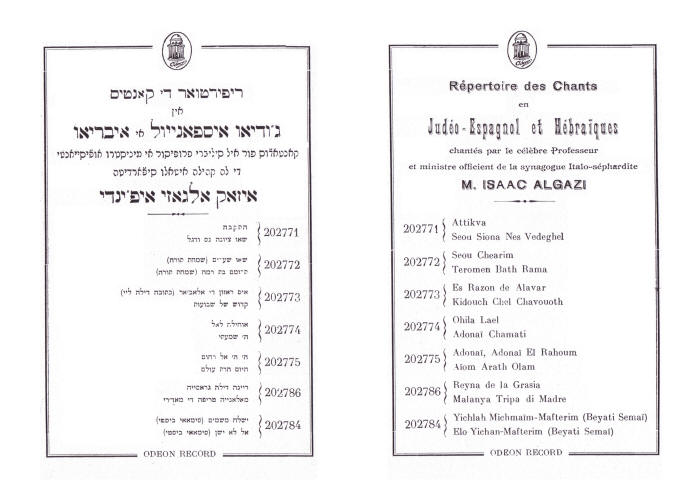 Source: The second page appears in Seroussi, 1989.