Gramophone
Discography
| | | |
| --- | --- | --- |
| Label / Number | Artist | Title |
| | Della Pergola, Alberto | Askivenu |
| | Della Pergola, Alberto | Hosia |
| | Della Pergola, Alberto | W'Somro |
| | Della Pergola, Alberto | Kadiş |
| | Rosa, Mlle. | Me Keres matar Mansevo |
| | Mariette, Mlle. | Io so venido de Broussa |
| | Algava, Jacob | Djidji |
| | Algava, Jacob | Ermanos mis keridos |
| | Algava, Jacob | Arvoles de almendra |
| | Algava, Jacob | Grande es mi estoria |
| | Algava, Jacob | Grande desplazer me azes |
| | Algava, Jacob | Madame Gaspar |
| | Pessah, Albert | La ermoza dounzelia |
| | Pessah, Albert | El gozo |
| | Pessah, Albert | Alavassion |
| | Pessah, Albert | El marinero |
| | Algazi, Isaac | Reyna de la grazia |
| | Algazi, Isaac | Alma mia |
| | Algazi, Isaac | La Ketuba de la ley |
| | Algazi, Isaac | Ombre en qué té lo contienes |
| | Algazi, Isaac | Ayom arat olam, hebreu |
| | Algazi, Isaac | Ayom arat olam, hebreu |
| | Prato, David | Seu Scearim/Scialom Leha Dodi |
| | Prato, David | Jona |
| | Prato, David | Sciahar |
| | Prato, David | Sciohante |
| | Prato, David | Atanu |
| | Prato, David | El Nora Alila |
| | Prato, David | Alleluja |
| | Prato, David | Hattikvah |
| | Prato, David | Cheduscia |
| | Prato, David | Caddisch |
| | Algava, Jacob | Una sierta ija |
| | Algava, Jacob | La Constitution se dio |
| | Algava, Jacob | Ouna notché yo mé armi |
| | Algava, Jacob | Venid venid vos contaré |
| | Cohen, Elie | El Dio Alto Husseïni |
| | Cohen, Elie | Sultana |
| | Çakum Effendi | Los amigos me dan espéransa |
| | Çakum Effendi | Avre tus ojos i mira |
| | Çakum Effendi | Arvoles yoran por luviar |
| | Çakum Effendi | Tu sos ermosa |
| | Ovanes Efendi | Si nome Amaras |
| | Haïm, Isac | Cantes amargos |
| | Haïm, Isac | El parido |
| | Çakum Effendi | La reyna estava lavrando |
| | Çakum Effendi | Mi Dio a ken rogare |
| | Çakum Effendi | Ten Piadad Amoroso |
| | Çakum Effendi | Carselero i Piadoso |
| | Çakum Effendi | Im Afés |
| | Çakum Effendi | Bezohri |
| | Pessah, Isachino | Unas fuentes sin estanse |
| | Pessah, Isachino | El yerno muevo |
| | Algazi, Léon | Ma tovou |
| | Algazi, Léon | Scalerica de oro |
| | Gerberg, Léon | Adonoï molokh |
| | Gerberg, Léon | Schivo Berokhoss |
| | Gerberg, Léon | Schivo Berokhoss. (2 Partie) |
Recordings Without Catalog Numbers
| | | | | | | |
| --- | --- | --- | --- | --- | --- | --- |
| MATRIX NO. | DIAMETER | ARTIST | TITLE | DATE RECORDED | RECORDING LOCATION | ENGINEER |
| 12757b | | Pessah, Albert | | ?/03/09 | Salonica | Fred W. Gaisberg |
| 308ak | 10 inch | Marie, Mlle | Cantos Amargos | 31/08/11 | Salonica | George W. Dillnutt |
| 310ak | 10 inch | Mariette, Mlle. | La reina estava lavrando | 31/08/11 | Salonica | George W. Dillnutt |
| 311ak | 10 inch | Mariette, Mlle. | Reposa mi amoroza | 31/08/11 | Salonica | George W. Dillnutt |
| 1615y | 10 inch | Capoua, Isaac | Malania Trepa de Mada | ?/06/10 | Smyrna | Arthur S. Clarke |
Source (for Recordings without Catalog Number): Michael Aylward
History
The UK Gramophone Company was founded in 1898 as the UK partner of Emile Berliner's United States Gramophone Company, founded five years earlier. The Gramophone Company first recorded in the Ottoman Empire in 1900. In May of that year, the Gramophone engineer William Sinkler Darby visited Belgrade and Bucharest, then recorded Greek and Turkish songs in Constantinople on single-sided, 7-inch records (Kaliviotis; Strötbaum.)
Around 1907, Gramophone opened a regional office in Alexandria. This office handled the company's affairs for the Near East, and issued the Greek and Turkish catalogues, including many of the so-called "Oriental Jewish" recordings discussed in this site (Gronow, 1981.)
In 1907 Gramophone engineers went to Sarajevo and Constantinople, recording masters that quickly found their way onto almost 30 releases. It's surely no coincidence that Gramophone added their first Sephardic titles shortly after Odeon did. The same artists often recorded for several companies; for instance, Jacob Algava recorded for both Odeon and Gramophone. It was also impossible to disguise the very bulky equipment and supplies that recording engineers carried in those days. So Gramophone representatives would certainly have known of Odeon's Sephardic activities in advance of the release date.
After a two-year break, visits by Gramophone engineers to Salonica in March 1909 and Smyrna the following month yielded a new crop of recordings, including the first by the famed cantor Isaac Algazi. Off the beaten track, the expatriate Italian singer and Hazan Alberto della Pergola recorded four Hebrew sides for Gramophone in Bucharest, Romania ca. August, 1913.
Some of these Gramophone Company titles appeared on the Gramophone label, while others were released by the company's Zonophone "budget" label. Altogether, Gramophone had by far the largest roster of Sephardic artists and recording locales of any recording company.
Catalogs
September 1909, Greece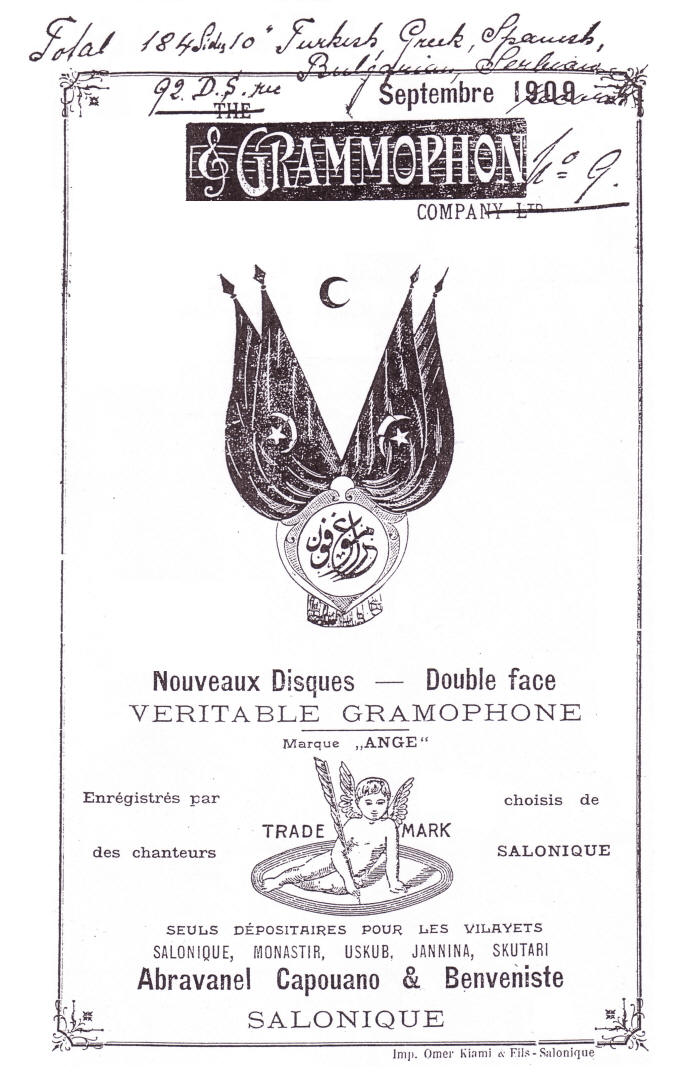 Sources: Michael Aylward; Hugo Strötbaum
---
September 1909, Turkey


Sources: Michael Aylward; Hugo Strötbaum.
---
October 1910, Turkey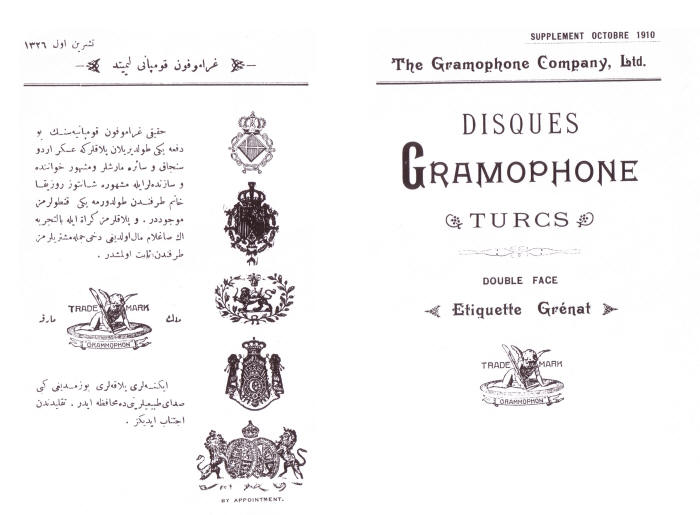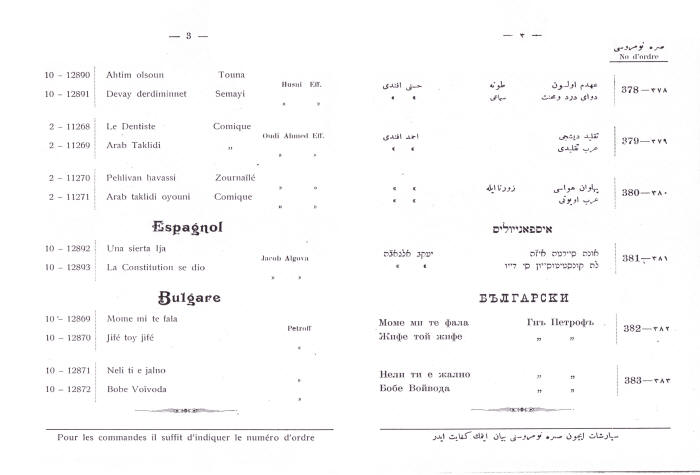 Sources: Michael Aylward; Hugo Strötbaum
---
December 1910, Turkey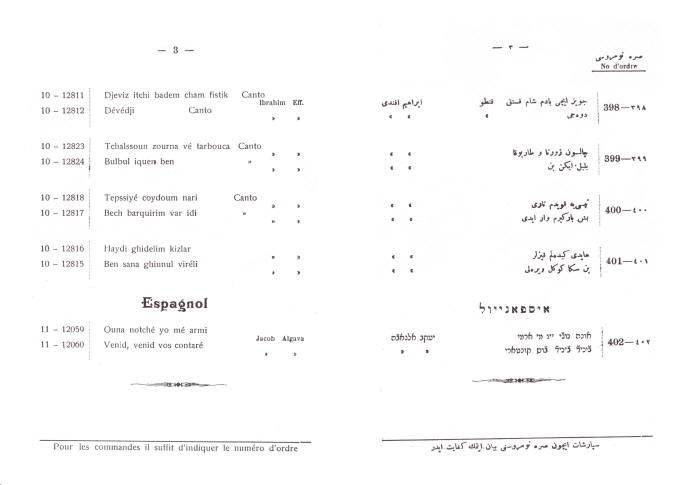 Sources: Michael Aylward; Hugo Strötbaum
---
January 1911, Greece


Sources: Michael Aylward; Hugo Strötbaum; Aristomenis Kalyviotis
---
1914-1915, Romania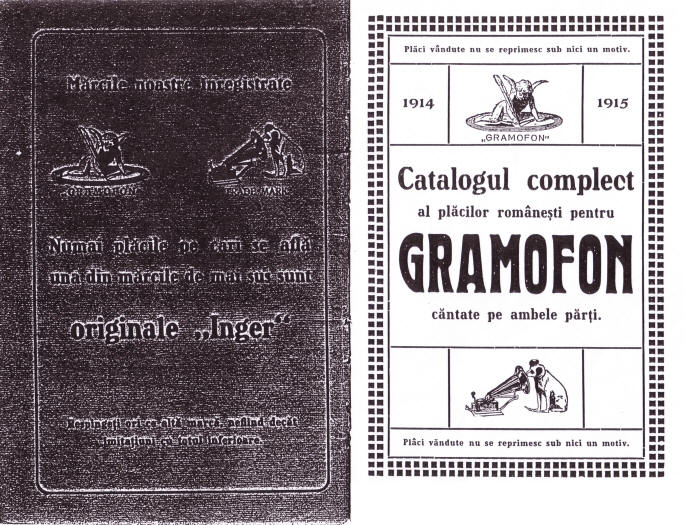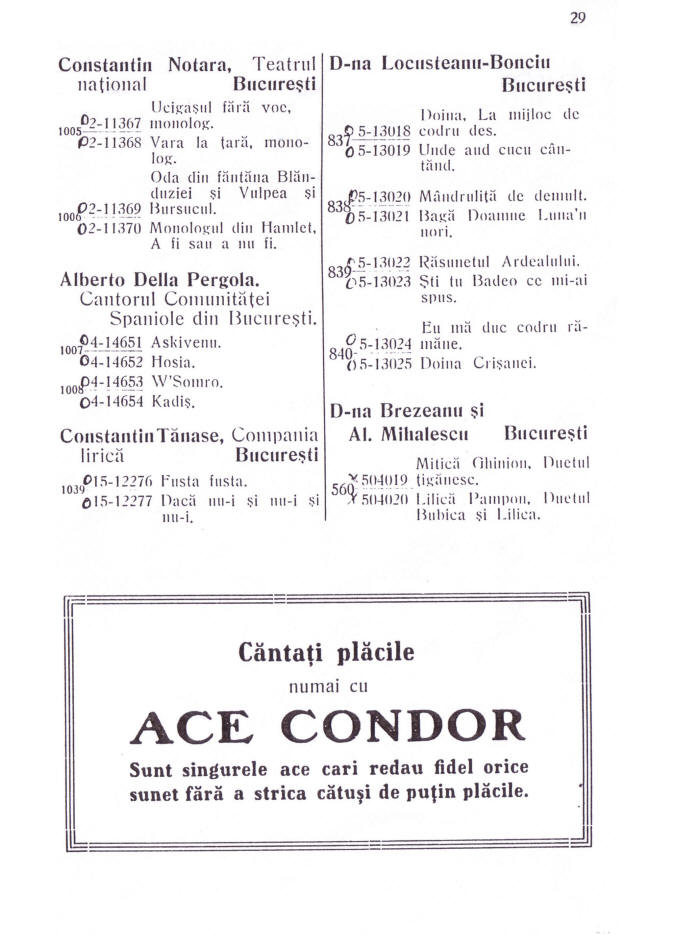 Source: Michael Aylward