Columbia
Columbia Graphophone Recordings (Non-US)
| | | |
| --- | --- | --- |
| Label / Number | Artist | Title |
| | Haim Effendi | El dantista moderno (diálogo kómiko) |
| | Haim Effendi | Rinya konyugal (diálogo kómiko) |
| | Haim Effendi | Karnisería modelo (diálogo kómiko) |
| | Haim Effendi | Abaso las faldas (monologo) |
| | Haim Effendi | A granada |
| | Haim Effendi | Tarantaz nwevas |
| | Haim Effendi | Et Chare Rasson |
| | Haim Effendi | Israel Avadeha |
| | Haim Effendi | Marche Sioniste Kol Hod Baleva |
| | Algazi, Isaac | Avinou Malkenou |
| | Algazi, Isaac | Kamti |
| | Algazi, Isaac | Al Dio alto |
| | Algazi, Isaac | Ay Mansévo |
| | Algazi, Isaac | Quando los Riccos |
| | Algazi, Isaac | Ditcho me avian |
| | Algazi, Isaac | Ayom Arad Olam |
| | Algazi, Isaac | Aben Yakir li Efraďm |
| | Algazi, Isaac | Kidousch |
| | Algazi, Isaac | Petiha Allela Chem |
| | Algazi, Isaac | Yessav a El |
| | Algazi, Isaac | Ana Ke Av Zedoni |
| | Algazi, Isaac | Imafes |
| | Algazi, Isaac | Livriteha Schohem Zevoul |
| | Algazi, Isaac | Alma mia |
| | Algazi, Isaac | Cantica de achoughar |
| | Della Pergola, Alberto | Vesameru |
| | Della Pergola, Alberto | Eleenu |
Columbia Recordings (US)
| | | |
| --- | --- | --- |
| Label / Number | Artist | Title |
| | Zfirah, Bracha | I have a garden |
| | Zefira, Bracha | Ein Adir |
| | Stamboul Quartette | Avino Malqueno |
| | Stamboul Quartette | Vayered Ashem |
| | Stamboul Quartette | Bezohri |
| | Stamboul Quartette | Ayom Arad Olam |
| | Zfirah, Bracha | I have a garden |
History
Columbia Records in the United States was a separate entity from Columbia Graphophone Recordings (UK.) The only Sephardic recordings it released were by the Stamboul Quartette in 1925 and by the Israeli Yemenite singer Bracha Zefira in the 1930s and 1940s.
The Columbia Graphophone Company was similarly a late-comer to the Sephardic market. The Blumenthal brothers sold the Orfeon label to Columbia Graphophone in 1925. A year later, Odeon and other Lindström labels were acquired. (Gronow, 1981) By this point Columbia owned the Orfeon, Odeon, and Favorite labels.
The first Sephardic recordings actually issued on the Columbia label were recorded in 1927 by Haim Effendi and Isaac Algazi. After 1930, European Odeon matrices appeared for several years on Columbia. For example, at least one Favorite Sephardic recording was re-issued on the Columbia label.
When Columbia and Gramophone merged in 1931 to become EMI, the Gramophone agents "were chosen to continue representing the company. Columbia's old agents, Blumenthal Frčres, were unceremoniously dropped." (Vernon, Paul, "Empire State", http://www.bolingo.org/audio/texts/fr167empire.html, Accessed October 6, 2008.)
Advertisements and Catalogs
1925, United States

Source: La Vara, 11 December 1925
1928, Egypt and the Sudan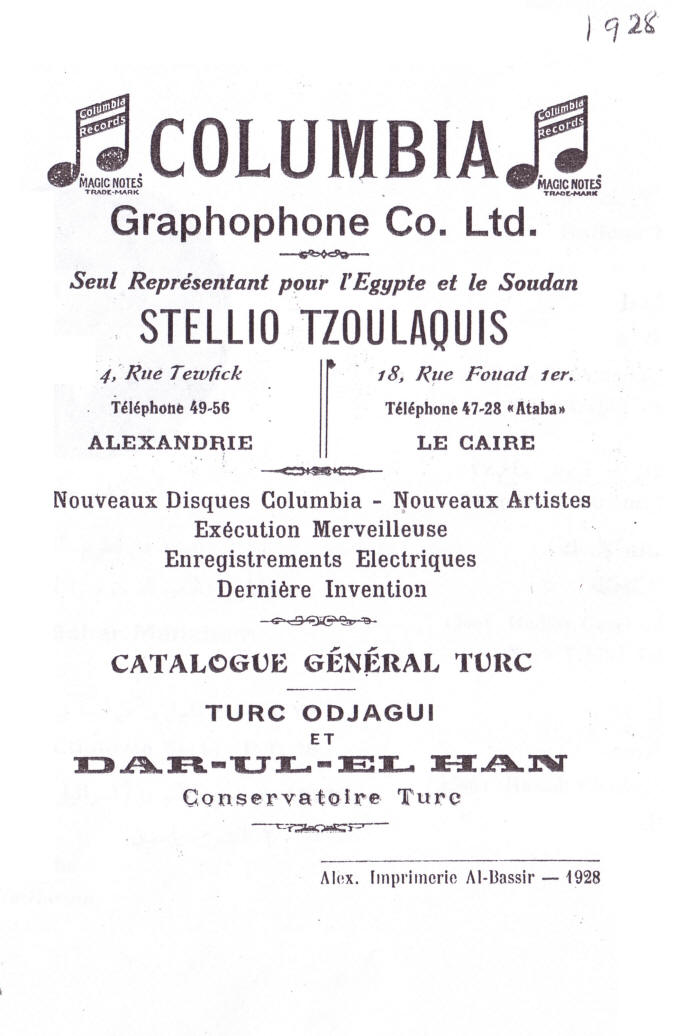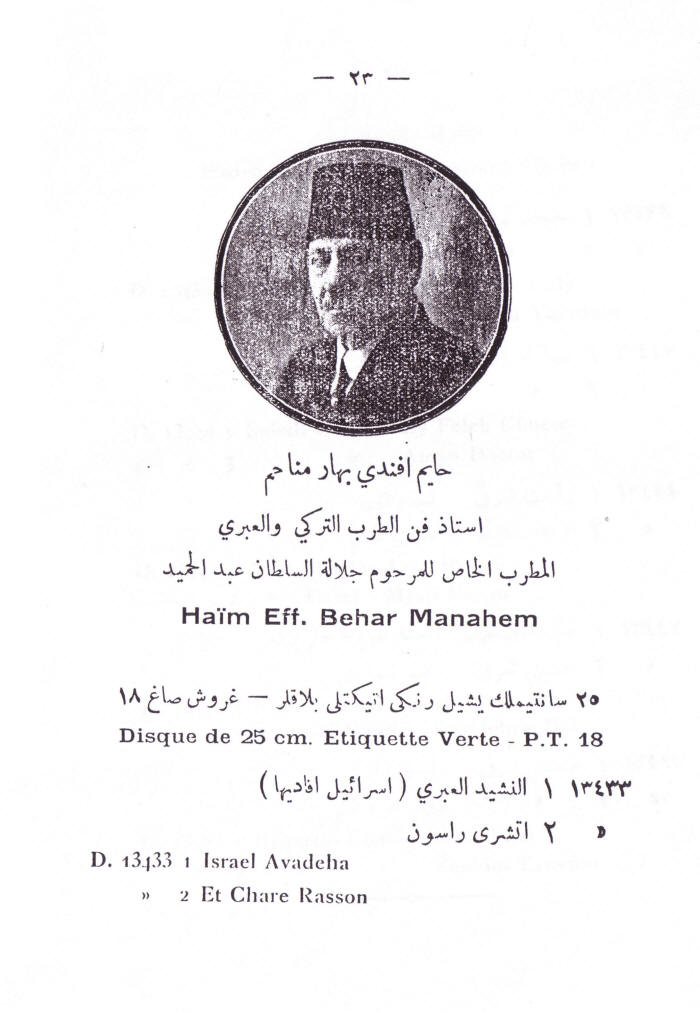 Source: Hugo Strötbaum.
Undated Turkish catalog (ca. 1927)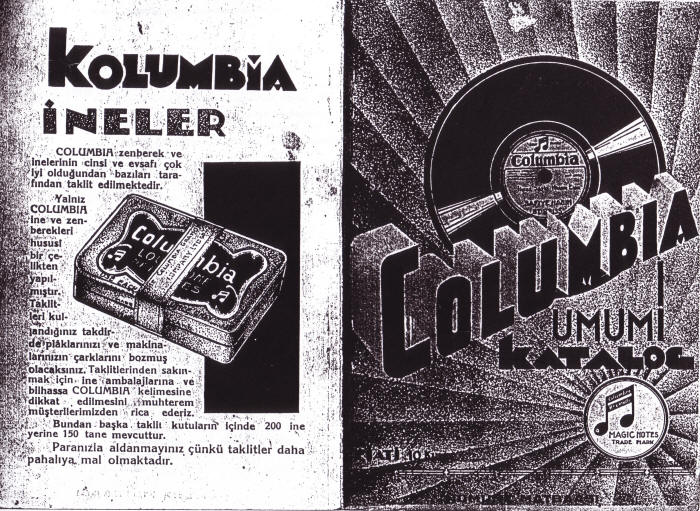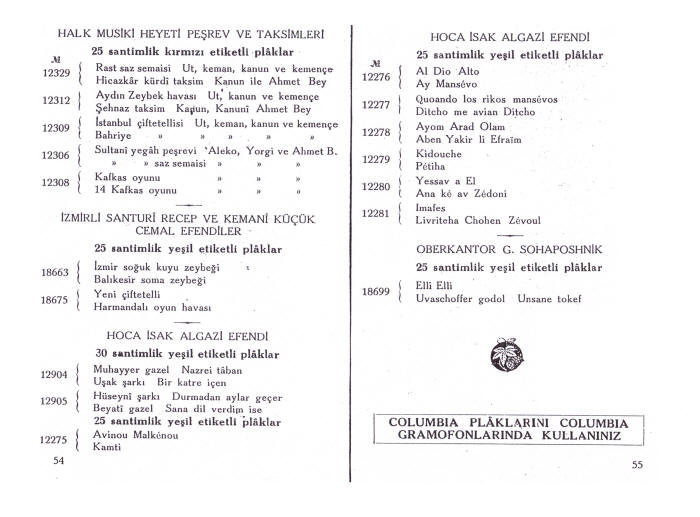 Source: Hugo Strötbaum.