Victoria Hazan
Discography of Sephardic (and other) Recordings
| | | |
| --- | --- | --- |
| Artist | Title | Label / Number |
| Hazan, Victoria | El Cante por la Victoria | |
| Hazan, Victoria | Lagrimas Verterei | |
| Hazan, Victoria | Me Kemi Y Me Enflami | |
| Hazan, Victoria | Mis Penserios Gazel | |
| Hazan, Victoria | No Ay Luz, Sabah Gazel | |
| Hazan, Victoria | No Riygas con mi | |
| Hazan, Victoria | Seda Amaria Son | |
| Hazan, Victoria | Todas mis esperansas | |
| Hazan, Victoria | Un anio Ay | |
| Hazan, Victoria | Un dia Yo Bizi | |
Turkish
| | | |
| --- | --- | --- |
| Hazan, Victoria | Araraim Seni Her Guni | Kaliphon 710 |
| Hazan, Victoria | Rast Neva Gazel | Kaliphon 710 |
| Hazan, Victoria | Yureimde Bou Agi | Kaliphon 711 |
| Hazan, Victoria | Yardan haber Gelmadi | Kaliphon 711 |
| Hazan, Victoria | Hayal Deresy | Kaliphon 712 |
| Hazan, Victoria | Gionul Arasinda | Kaliphon 712 |
| Hazan, Victoria | Hüzam Gazel | Metropolitan 2001 |
| Hazan, Victoria | Martinim Omüzümda | Metropolitan 2001 |
| Hazan, Victoria | Garip Hicaz | Metropolitan 2002 |
| Hazan, Victoria | Gordum Ben Seni | Metropolitan 2002 |
| Hazan, Victoria | Değirmenci | Metropolitan 2004 |
| Hazan, Victoria | Bahçe duvarin açdi | Metropolitan 2004 |
Greek
| | | |
| --- | --- | --- |
| Hazan, Victoria | Omorfo Mou Hariklaki | Metropolitan 156 |
| Hazan, Victoria | Na se hara hasapaki | Metropolitan 156 |
All recorded and released in New York, N.Y.
Sra. Hazan's entire recorded repertory (10 songs in Ladino; 12 in Turkish, and 2 in Greek) were re-released on Todas mis esperansas, reviewed here: http://www.mustrad.org.uk/reviews/schw_haz.htm. One song also appears on the CD Es Razon de Alabar.
For more information, see also this record label page: Metropolitan.
Biography
Born April 15, 1896 in Salihli, Northeast of Izmir (Smyrna), the third child of Moshe and Rivka Ninio. As befits her married name, Hazan was born into a family of cantors. She moved to Izmir around 1915 and to New York City around 1920. She married Israel Hazan ca. 1925. Sometime after Israel's death ca. 1936, she married Joe Rosa.
She was the President of the United Sisterhood Benevolent Society (in the Bronx?). She concertized at her synagogue, singing and playing the 'oud. She sang in Turkish, Greek, Ladino, Armenian, French and Hebrew. The liner notes to Todas Mis Esperansas relate that she initially declined when fans requested she record, saying her husband "made a good living." Eventually she relented and with her husband's consent, entered the recording studio. She produced commercial recordings in Turkish, Greek and Ladino in the early 1940s for the Kaliphon and Metropolitan label.
She died on November 21, 1995, in New York City and is buried in Cincinnati, OH.
Sources:
Maurice Ninio, Carol Freeman and Joseph Hodara. Todas mis esperansas liner notes by Michael Schlesinger.
Photos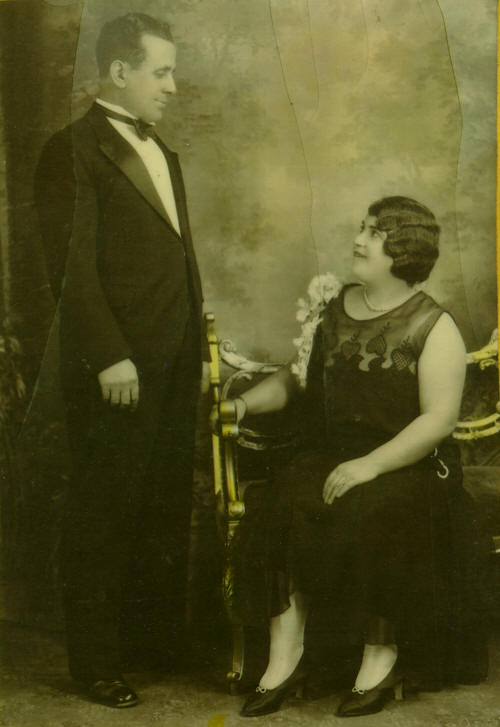 Engagement photo with Israel Hazan. Source: Maurice Ninio.
---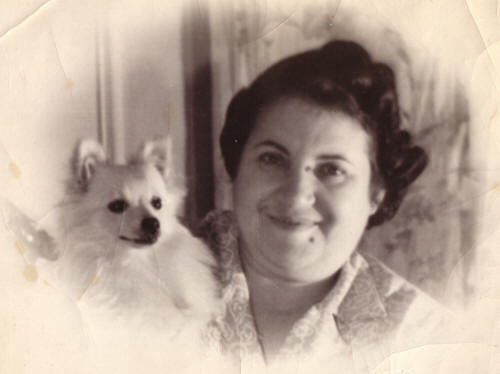 Source: Maurice Ninio.
---

Sra. Hazan is fourth from the right, partially obscured by her husband, Israel. Photo of the United Sisterhood Benevolent Society. Source: http://home.hawaii.rr.com/hodara/historyLH/Victoria.html
---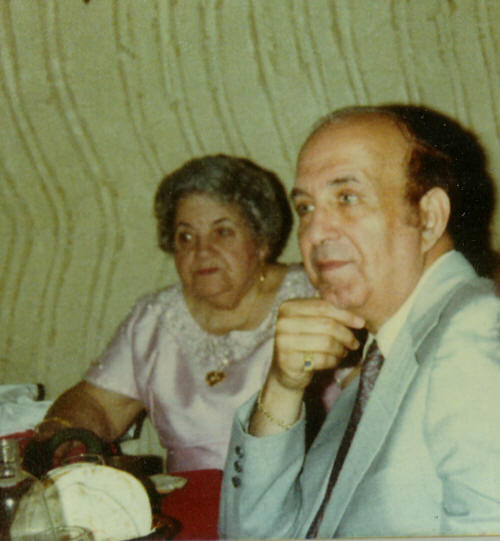 Ca. 1975. Courtesy of Mr. Maurice Ninio, pictured at the right.
---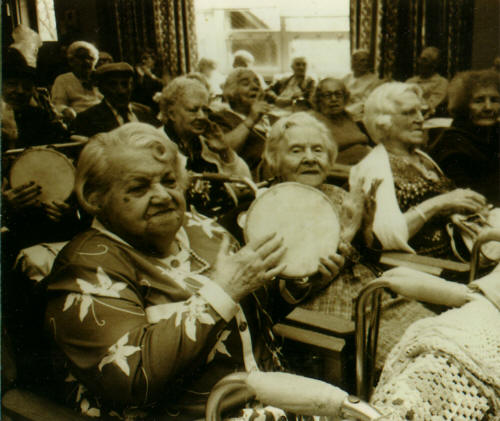 While living at the Sephardic Home in Brooklyn, NY. Source: Maurice Ninio.
---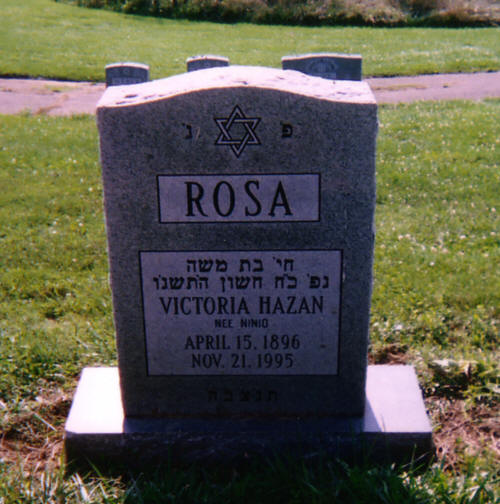 Photo by the author.